Updated November 11, 2007
Dave has made available photographs collected during and unpublished writings inspired by his globe-trotting.
NEW Travel between the covers
db visits West Africa
Massey Hall farewell
Five Hole at High Performance Rodeo
China
Finland
Nettuno, Italy
Mongolia
---
Travel between the covers
db's Around the World in 57½ Gigs was released in October (see Books) and included tales of his travels to many of the places below. On Saturday, November 9, db clebrated the launch by reading the whole book in the front window of Pages Books in Toronto.

These pictures were provided by the Torontoist blog. There are more pictures there, too.
---
Final installment of Around the World
db is back from Sierra Leone and Ghana as part of War Child Canada's music outreach program. Stay tuned for more information and pictures. In the meantime, here are two images from Freetown, the capital of Sierra Leone.

The boys above, left to right, are Barmmy Boy and Lustinejay. Click here and here to be routed to two inspiring films about their music, Dynamic Records and Studio D, cobbled together from dreams, heart and electronic cast-offs in a war-zone, that have been posted to YouTube. Testimony to the power of music.
For a version of "Horses" recorded at the Buduburam Liberian Refugee Camp with the Liberian Dance Troupe Drummers, the Harmony Rocks Singers, Wilfred Brown, and a cast of hundreds, visit db's music page.
---
Massey Hall farewell
The Rheostatics bid farewell to the world March 30, 2007 from the stage at Massey Hall. These shots were taken by Erik Toth, Imponderable, on his cellphone camera during sound check and the encore.
---
Five Hole at the High Performance Rodeo
In January 2006, Artistic Director Blake Brooker of Calgary's One Yellow Rabbit, western Canada's most successful avant garde theatre company, announced its collaboration with the Rheostatics to develop a new show for the High Performance Rodeo.
"Canada Council approached us to commission a work for its 30th anniversary ... and, somehow, this show seemed like something that we could do," said Brooker.
A year later in 2007, db's Five Hole: Tales of Hockey Erotica headlined at the 21st edition of the festival.

Photo credit: Trudy Lee, courtesy of The Globe and Mail.
db blends Canada's national game with Canada's other national game -- whether sex or hockey come first is up to you -- in theatre and music. OYR brought the stories to life.
The band carrying the Rheostatics' banner for the show included db, Selina Martin, Barry Mirochnik, Ford Pier and Martin Tielli.
Click here to read db's diary co-authored with Denise Clarke from OYR, published in the National Post.
Click here to read reviews from the Calgary Herald and Calgary Sun.
Click here to read previews from the Calgary Herald and Globe and Mail.
For a QuickTime video clip taken during rehearsal, click here. To download QuickTime, click here.
The closing night performance was recorded for later broadcast on CBC Radio; stay tuned for news. Former Calgary Flames and Detroit Red Wings goalie and Conn Smythe winner Mike Vernon was in attendance; no word as to what he thought of the show.
---

Even the Chinese are learning about the 'rock posture.'
The October 2006 issue of Toro magazine featured an article about db's travels in China. Click here to read his unedited account of transplanting the rock'n'roll fist pump to the other side of the world, an exotic addition to the repertoire of music fans in the People's Republic.

Chinese rock'n'roll hoe-down.

Pensive pre-show portrait.
---
Finland
Dave's been trotting the globe in support of his upcoming book, Around the World in 80 Gigs. Here are pics and writings related to these travels.
Finland

db gigging in an Irish bar in ... Finland?

Hanging with two of Finland's hottest film actors and wannabe drunken troubadors. At least they got the first part right.
"If you want to see my penis, you have to marry me." Click here to read more about db's Finnish adventures.

Pressed to the margins by the Cleaning Women's 'industrial' drum kit.

The sincere serenades of Sirkus Cosmonautti.
---
Nettuno, Italy
Sylvano Casaldi is the curator of the war museum in Nettuno, which is the town featured in Baseballissimo, the story of your author's six month visit to Italy playing and hanging out with the 3rd division Nettuno Peones (see excerpt here **).
Before I left in the fall of 2002, Sylvano handed me a folder with these remarkable baseball photographs that document the history of ItaloBall -- for those who haven't read the book, baseball was brought to Nettuno during WWII by a 30, 000 strong beach-head of Allied soldiers; today, there are more ballfields than churches in Nettuno.
Here are a few of these pictures, featuring Nettuno athletes with Joe DiMaggio (who hit there in 1957), Castro and Pope Paul VI.

The great Joe di Maggio visits the Nettuno Peones.

The Nettuno Peones traveled to Cuba to play baseball and met Fidel Castro.

Pietro Monaco tries to take third in Cuba.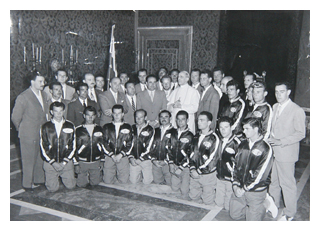 Nettuno Peones team picture with Pope Paul VI (centre, in white).

American actor Gregory Peck throws out the first pitch.

Batting practice in the old days.

Some of the Peones once attended the Cincinatti Reds' training camp.

Working out game strategy.
Click here to read an excerpt from Baseballissimo.
---
Mongolia
db traveled to Mongolia to visit one of three countries featured in the Gemini Award winning hockey documentary I Am a Hockey Nomad.

db and Pujee on the ice in Ulan Bator.

db facing off with some of Mongolia's hockey legends.

Outdoor hockey beneath a torn canvas sky.

Every hockey locale has its own absurdities: here, db sports the sweater of Mongolia's heroes while lounging with a herd of ... penguins.